We work closely with law enforcement partners across our seven counties in Michigan, publicizing information on unsolved cases, providing valuable crime solving tools and resources, and, of course, passing along critical tipster information to the appropriate law enforcement departments.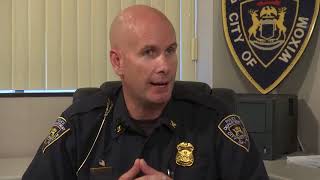 In 2017, Crime Stoppers has received more than 5,093 anonymous tips from the public and has awarded more than $88,300 in cash rewards to anonymous tipsters!
Some of the crimes we receive tips regarding include the following:
Narcotics
sexual assault
larceny
Kidnapping
Breaking and Entering
Car Jacking
Animal Cruelty
Homicide
Vandalism
Hit and Run
Missing Person
Robbery
Assault
Fugitive
Human Trafficking
Shooting
Arson
Child Abuse
With each case cleared, the safety of our local neighborhoods increases. As residents are empowered to actively look out for one another and call Crime Stoppers with information, a strengthened sense of community responsibility is formed, acting as a deterrent to those considering criminal activity.
We cannot undo damage that has already been done, but we can put a stop to repeat crimes by helping law enforcement bring criminals to justice!   
Our current Law Enforcement Partners:
Bloomfield Twp. Police Department
Brighton Police Department
Brownstown Police Department
Canton Police Department
Chesterfield Police Department
Clinton Twp. Police Department
Dearborn Police Department
Detroit Police Department
Dundee Village Police Department
Eastpointe Police Department
Ferndale Police Department
Fraser Police Department
Garden City Police Department
Grosse Point Park Police Department
Grosse Point Police Department
Harper Woods Police Department
Hazel Park Police Department
Highland Park Police Department
Inkster Police Department
Lincoln Park Police Department
Macomb County Sherriff
Milford Police Department
Monroe County Prosecutor
Monroe County Prosecutor SA
New Baltimore Police Department
Oak Park Police Department
Redford Police Department
Richmond Police Department
Riverview Police Department
Romulus Police Department
Roseville Police Department
Royal Oak Police Department
Saline Police Department
Shebly Twp. Police Department
Southfield Police Department
Southgate Police Department
Sterling Heights Police Department
Taylor Police Department
Trenton Police Department
Walled Lake
Wayne County Sherriff
Wayne Police Department
West Bloomfield
Westland Police Department
White Lake Township Police Department
Wixom Police Department